Chris Dickerson biography,pictures and videos
8 March 2010 One Comment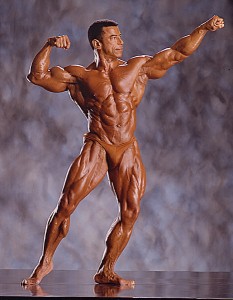 Chris Dickerson (born August 25, 1939 in Montgomery, Alabama), is an American bodybuilder.
Bodybuilding career
Dickerson was born to Mahala Ashley Dickerson as the youngest of three triplets. Dickerson studied music and is an accomplished opera singer. His bodybuilding career spanned thirty years. He was known for both his heavily muscled, symmetrical physique and his skills on the posing dais.
Dickerson first entered competition in 1965 by taking third place at that year's Mr. Long Beach competition. He was not only the first African-American Mr. America, but also the oldest winner, at age 43, of the IFBB Mr. Olympia contest.
Dickerson is one of the world's most titled bodybuilders. He trained for many of his most important competitions in the 1980s with bodybuilding great Bill Pearl. Dickerson was inducted into the IFBB Hall of Fame in 2000.
Today, Dickerson is living in Florida where he still trains, conducts seminars, and corresponds with today's athletes.
Bodybuilding titles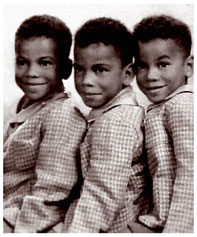 * 1966 Mr North America – AAU, 2nd
* 1966 Mr New York State – AAU, Overall Winner
* 1966 Mr Eastern America – AAU, Overall Winner
* 1966 Mr Atlantic Coast – AAU, Overall Winner
* 1966 Junior Mr USA – AAU, Most Muscular, 1st
* 1966 Junior Mr USA – AAU, Winner
* 1967 Mr California – AAU, Winner
* 1967 Mr America – AAU, Most Muscular, 4th
* 1967 Mr America – AAU, 6th
* 1967 Junior Mr America – AAU, Most Muscular, 5th
* 1967 Junior Mr America – AAU, 4th
* 1968 Mr USA – AAU, Most Muscular, 2nd
* 1968 Mr USA – AAU, Winner
* 1968 Mr America – AAU, Most Muscular, 3rd
* 1968 Mr America – AAU, 3rd
* 1968 Junior Mr America – AAU, 3rd
* 1969 Mr America – AAU, 2nd
* 1969 Junior Mr America – AAU, 2nd
* 1970 Universe – NABBA, Short, 1st
* 1970 Mr America – AAU, Most Muscular, 1st
* 1970 Mr America – AAU, Winner
* 1970 Junior Mr America – AAU, Most Muscular, 1st
* 1970 Junior Mr America – AAU, Winner
* 1971 Universe – NABBA, Short, 1st
* 1973 Universe – NABBA, Short, 1st
* 1973 Universe – NABBA, Overall Winner
* 1973 Pro Mr America – WBBG, Winner
* 1974 Universe – Pro – NABBA, Short, 1st
* 1974 Universe – Pro – NABBA, Overall Winner
* 1975 World Championships – WBBG, 2nd
* 1975 Universe – Pro – PBBA, 2nd
* 1976 Universe – Pro – NABBA, Short, 2nd
* 1976 Universe – Pro – NABBA, 3rd
* 1976 Olympus – WBBG, 4th
* 1979 Olympia – IFBB, Lightweight, 4th
* 1979 Grand Prix Vancouver – IFBB, 2nd
* 1979 Canada Pro Cup – IFBB, Winner
* 1979 Canada Diamond Pro Cup – IFBB, 2nd
* 1980 Pittsburgh Pro Invitational – IFBB, 2nd
* 1980 Olympia – IFBB, 2nd
* 1980 Night of Champions – IFBB, Winner
* 1980 Grand Prix New York – IFBB, Winner
* 1980 Grand Prix Miami – IFBB, Winner
* 1980 Grand Prix Louisiana – IFBB, 2nd
* 1980 Grand Prix California – IFBB, Winner
* 1980 Florida Pro Invitational – IFBB, Winner
* 1980 Canada Pro Cup – IFBB, Winner
* 1981 Professional World Cup – IFBB, 2nd
* 1981 Olympia – IFBB, 2nd
* 1981 Night of Champions – IFBB, Winner
* 1981 Grand Prix World Cup – IFBB, 2nd
* 1981 Grand Prix Washington – IFBB, Winner
* 1981 Grand Prix New York – IFBB, Winner
* 1981 Grand Prix New England – IFBB, 2nd
* 1981 Grand Prix Louisiana – IFBB, Winner
* 1981 Grand Prix California – IFBB, Winner
* 1982 Olympia – IFBB, Winner
* 1984 Olympia – IFBB, 11th
* 1990 Arnold Classic – IFBB, 8th
* 1994 Olympia – Masters 50+ – IFBB, 1st
ChrisDickerson.net
– His official web site
For full article with photo-gallery and videos click here:
Chris Dickerson biography,pictures and videos | MusclesProd.Com - BodyBuilding, Fitness and Steroids